15th March 2008
This website has been hurriedly set up in order to draw attention to the travesty that is taking place in a relatively tranquil and peaceful Countryside area of St. Brelade in Jersey . Hopefully the complete truth behind this development and the way in which it was rushed through the planning process will be revealed to members of the public in the very near future. This website will be updated and modified accordingly.
4th April 2008
The truth begins to emerge indicating deception and manipulation on a large scale. Deputy Sean Power has produced a report which contains details of systematic abuse and total disregard for the planning application and approval process. In early November prior to submitting their formal application Les Ormes Leisure Centre/Bosdet Foundation began scraping and clearing the valley floor. Effectively destroying the natural wildlife habitat and destroying the evidence that it ever was a natural wildlife habitat. However what their guileful manouevre hadn't counted on was the fact that there is an "eye in the sky" that watches and witnesses. They didn't realise that there were aerial pictures available that clearly showed that the area was at least 75% green vegetation. The valley was surrounded on three sides by environmentally protected zones and this natural wildlife habitat had spread onto the valley floor.
When Les Ormes Leisure Centre/Bosdet Foundation were explicitly told by the Environmental Officer to stop clearing the valley they simply ignored him. By the time their application went in all evidence of the natural wildlife habitat had been completely destroyed. All those actively involved in the development pronounced the area "a dump". Which is effectively what they had made it. Fait accompli. And even now they and their friends continue to repeat their "it was a dump" mantra in the media even though the evidence is staring them in the face that it was NOT a dump! They seem to be relying on the principle of "A lie told often enough becomes truth" .
16th April 2008
Chris Shepley CBE will be on the island next week and will be conducting the enquiry into circumstances surrounding the application process and development of Les Ormes Adventure Centre. So far as can be ascertained he will be interviewing all those who are involved in the matter.
It is to be hoped that a man of his stature and expertise will function with honesty, impeccability, and integrity and that he will realise the need to truly demonstrate his independent status. We all need to know the truth and all he has to do is dig a little below the surface and he will more clearly see the hidden entanglements and interests that have been served here.
It is also to be hoped that he will identify and highlight the irregularities and those who perpetrated them in order to ensure that such occurrences are minimised in the future. And that, without prejudice, his findings will be openly revealed in due course. When they are, with permission, they will be published fully on this website.
There are members in the States and members of the public who believe that Chris Shepley is being brought over to do a PR whitewash and cover up. We can only trust that he is above such low-minded behaviour. If a man with such an unimpeachable reputation cannot be trusted with uncovering and discovering the truth then there is little hope for truth and justice in this or any other matter. And Jersey will be at the mercy of the developers and those within the States who actively support them...no matter the cost to the island or the heritage of Jersey.

Les Ormes Valley known locally as Creepy Valley has had its heart ripped out by the developers of Les Ormes Adventure Centre.
This picture is circa 2006 and is outlined to show the full extent of the development.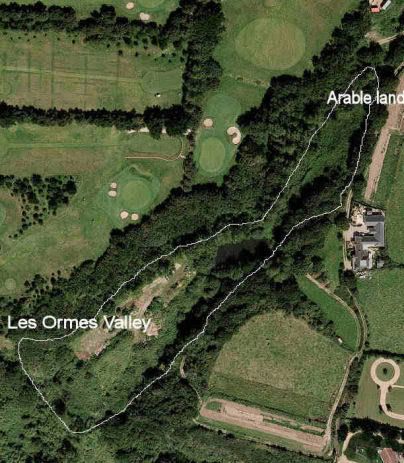 The development is estimated to be around a third of a mile long (500 metres).
It seems the Planning Application Procedure for the Les Ormes Adventure Centre was predicated upon lies, inaccuracies, deception, secrecy, and manipulation which lead to the desecration of a valley and adjoining cotil on the immediate boundary of an SSI. This is an abuse and an abomination of what was once a Green Zone wild life habitat that formed a natural buffer zone between agricultural land, Les Ormes Golf Club, and the environmentally protected Site of Special Interest.
The local residents who are most affected by this development had no idea that this area of unkempt natural beauty and haven for wildlife was going to be laid bare and the heart of the valley ripped out prior to work commencing on site just over three weeks ago.

The scale and size of the development is huge and has to be seen to be believed. The wooden poles in the picture are at least 45 feet high.
Unbelievably the offical Planning & Environment Dept Report concludes that:
"It is considered that the proposals will not adversely impact on the environment."
This is an outrageous and totally misleading assertion.
It is also the tip of the iceberg so far as inaccuracies, untruths, deception and manipulation are concerned.
Why was this major project virtually shrouded in secrecy and kept under wraps by the senior politicians and developers?

Could it have been because locally elected officials, the Planning Panel, or affected residents might have raised legitimate concerns or objections had they been provided with true and accurate information regarding the development beforehand?